Bring full visibility and continuity to your asset tracking and ticketing process. The Asset Panda integration with Zendesk seamlessly enables support agents to access the assets and information they need to tie to support tickets directly within the Zendesk interface. Bring ticket data into Asset Panda including dates, times, and attachments. Your agents will now have the information and context they need when creating tickets related to your assets.
Click to watch Asset Panda + Zendesk in action
Search for Asset Panda assets in Zendesk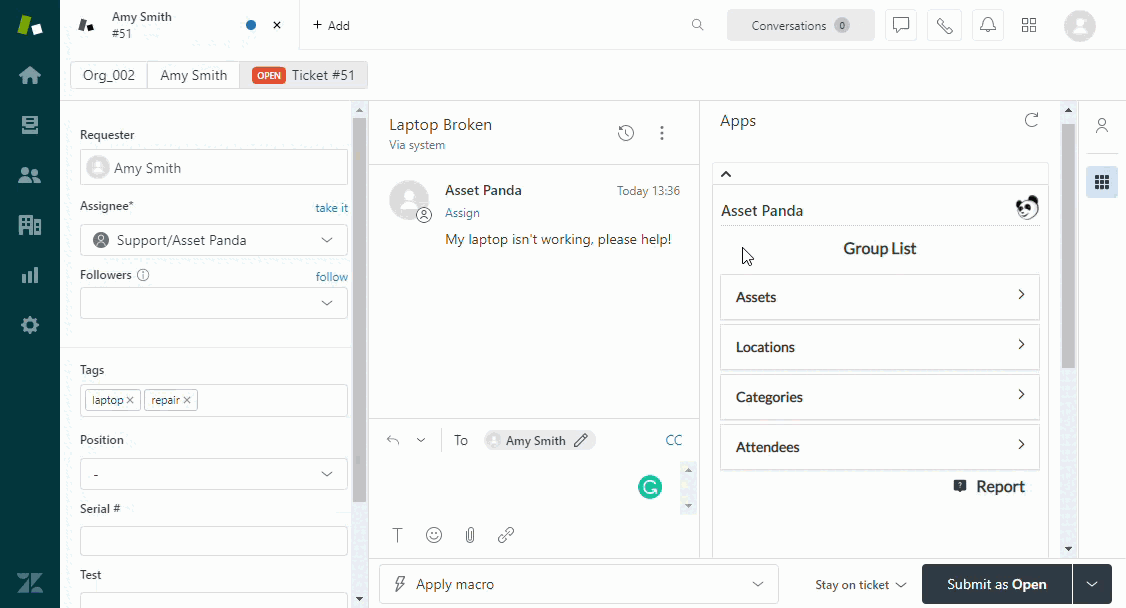 Asset Panda makes it easy to search for and attach assets directly to a ticket. Now you don't need to switch between your asset tracking tool and Zendesk to get the context and information you need to create a ticket.
View a summary of asset information
Get complete visibility into crucial asset information where and when you need it directly in Zendesk.
Bring asset details into your Zendesk tickets
No more cutting and pasting asset information. Seamlessly assign and insert your asset information into public or private ticket messages.
See real-time Zendesk ticket data in Asset Panda
Save time and reduce errors by linking assets to tickets in Zendesk. Get automatic updates in Asset Panda to stay on top of maintenance issues, replacement needs, etc.
Plus bring your Zendesk ticket attachments into Asset Panda to maintain a complete lifecycle history in one place.
Deliver Accurate Record Keeping and Communication
The Asset Panda Zendesk integration delivers unprecedented insights into your asset records and issue management. This end-to-end view of your ticketing and asset management process enables you to: * Track and report on agent interaction with assets * Understand the status and history of each asset * Rapidly act on tickets involving assets
Streamline your asset tracking and ticketing process today.
For more information on Asset Panda visit: https://www.assetpanda.com/
Sign up for a Demo Today: https://www.assetpanda.com/get-a-demo/